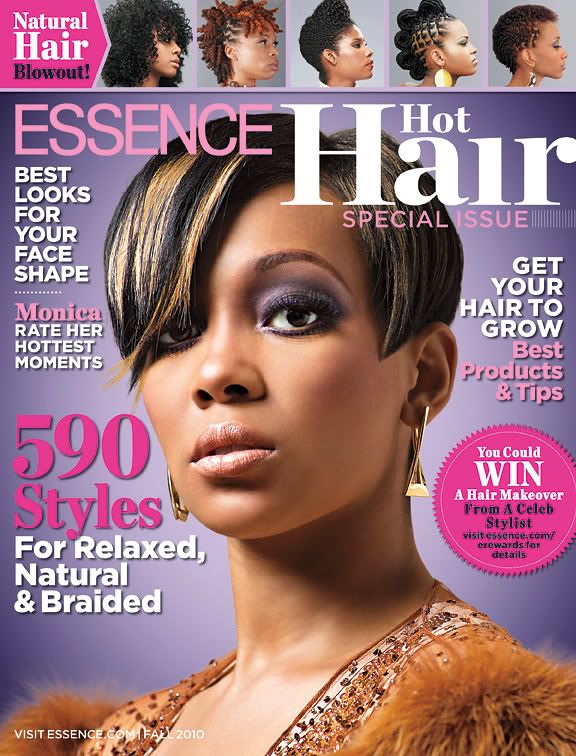 OK, I know I'm late about this issue but now I can't wait to get it as soon as I leave work today! The magazine explores the range of styles black women have embraced over the years. Check out the press release:
"The
Hot Hair
special issue, which hits newsstands on
October 8th
, will cover all of the beauty needs, questions, concerns and triumphs of African-American hair care and style. The cover price will be
$4.99
.
The Hot Hair issue will include features on the best beauty salons and a "40 Years of Hair" retrospective -- in honor of the magazine's 40th anniversary. In addition, the issue will feature the latest in coloring, styling, hair accessories, healthy hair rituals, money-saving tips, and so much more.
"ESSENCE understands the special relationship African-American women have with their hair. We know that she will travel to the far corners of the globe for the perfect product and hairstyle," said ESSENCE Beauty Director Corynne Corbett. "It is our goal to have Hot Hair to serve as a one-stop resource for African-American women to help her find timeless tips on keeping her hair healthy and gorgeous."
Hair enthusiasts will be able to further enhance their hair experience by immersing themselves within a variety of engaging, informative, trend-focused experiences on ESSENCE.com via its Hot Hair Destination page -- which will feature look books, hair tips, shopping lists, a "try on" tool where readers can experiment with new looks at no cost and other insights into African-American hair.
Hot Hair's digital extension speaks to ESSENCE.com's track record of leading the way in technology innovation for the African-American audience. The web site will offer a robust digital platform to enhance both consumers and advertisers buying into the issue. The pillars of the digital program will include an application for the iPad/iPhone, 2D bar codes, and a Hot Hair database launching in Beta in June. The paid application will allow women to try on hairstyles featured in the special with subsequent themed updates available for seasons or special occasions (including summer hair, wedding hair, etc.) These styles can also be activated using 2D barcodes by either launching the application -- which will allow you to purchase the application -- or by accessing additional content such as video or text tips on how getting and maintaining a particular hairstyle. Hot Hair will also leverage ESSENCE's extensive Facebook and Twitter presence to promote and allow for engagement where ever our audience is. "
Source: http://www.prnewswire.com/news-releases/essence-launches-hot-hair-to-hit-newsstands-october-2010-93961794.html